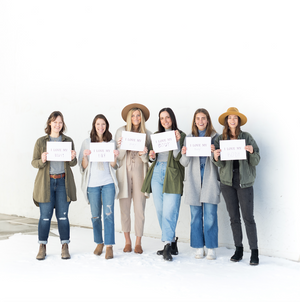 The Heart of a Sunday Girl: A Journey Toward Body Empowerment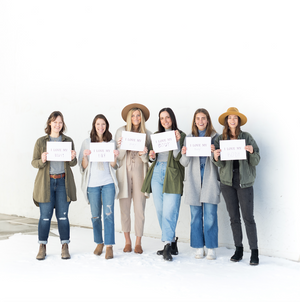 In her book The Gifts of Imperfection, Dr. Brené Brown wrote "Worthiness does not have prerequisites." There is no size in your jeans, no milestone in your career, no inner or outer accomplishment you need to have achieved to be worthy of love, respect, and all the joy you can feel in this one beautiful life. How easy it is to believe this of every single person we are honored to serve at Sunday Supply. How much more difficult it is to believe it ourselves. 
Throughout the month of March, we've been exploring what it means to feel embodied, confident, and content through the Body Empowerment Campaign. The inspiration for this campaign came from honest conversations about body image, and how fashion can play both a positive and negative role in the opinions we have about our bodies. How do we empower ourselves in a world that often disempowers us through lies too easy to believe? And how can we flip the narrative and help everyone, including ourselves, feel seen, heard, and valued?  
Sunday Supply exists at a very unique crossroads of the fast-paced, image-driven fashion industry; and the independent boutique world, where we get to know the faces and lives of the people who shop in our store. Because relationships are at the heart of Sunday Supply, it's got us thinking about the ways we interact with others, the world, and ourselves. We've been brainstorming how we can make our space a safer and more inclusive space to shop. Here are the ways we plan to continue advocating for body empowerment:
* Extend our sizing to offer clothing options to a greater number of people.
* Carry brands that prioritize body inclusivity and create clothing made with multiple body types in mind.
* Diversify our social media presence by showcasing models with multiple body types.
* Continue to listen to the ways you feel empowered, and how we can grow in helping empower people through fashion. 
Our Body Empowerment Campaign helped us recognize so many important truths about how we carry and care for ourselves. By learning from the wonderfully wide-ranging array of wise voices in books, podcasts, and social media platforms within the body positive movement (see a few of our faves below), we've come to realize how powerful the act of loving ourselves truly is. The journey of empowerment reminds us of the heart behind Sunday Supply and what we believe it means to be a "Sunday Girl": no matter what the world tells her about her outward appearance, the heart of a Sunday Girl is courageous and vulnerable. She celebrates the beauty and worth she sees in others, without comparison stealing her joy. She can rest in the confidence of who she is, explore her own unique style, and go after her dreams. She is beautiful because she is unapologetically herself. 
Through rejecting the lies we've believed, feeling embodied by taking care of ourselves with movement, rest, and community, and creating space at the table for the good and tough conversations, we want to continually empower one another toward loving all parts of us: body, mind, heart. We're so blessed to join you for the journey. 
Sincerely, Sunday 
The Sunday Supply Body Empowerment Bible
Whether you've been walking the road toward body empowerment for a while, or you're new to all this body positive talk, here are a few of the Sunday Team's go-to sources on feeling confident and content. 
INSTAGRAM Accounts We're Following: @theintuitive_rd | @thebodypostitive | @benourishedpdx | @alexlight_ldn | @katiesturino | @sarahsapora | @i_weigh | @alexlight_ldn | @keah_maria | @tamsgoinham
PODCASTS We've Learned from: The Body Image Podcast By Corinne Dobbas | The Liturgist Podcast: Episode: Embodiment | Undoing The Shame Of Our Body Struggle | Talking Body with Amy Porterfield
BOOKS on our Body Empowerment Shelf: The Gifts Of Imperfection - Brene Brown | Shrill: Notes From A Loud Woman by Lindy West | The Body Is Not An Apology by Sonja Renee Taylor | I am Her Tribe By Danielle Doby
ARTICLES We're Sharing: What I Would Tell My Younger Self About Body Image | The All Woman Project's Founders on Pushing for Diversity and Fashion as Protest - FROM VOGUE | Understanding The Body Positivity/Body Inclusivity Movement | 5 Steps to Becoming More Body Inclusive
QUOTES we're Inspired by...
"What if you wake up some day, and you're 65, or 75, and you never got your memoir or novel written; or you didn't go swimming in warm pools and oceans all those years because your thighs were jiggly and you had a nice big comfortable tummy; or you were just so strung out on perfectionism and people-pleasing that you forgot to have a big juicy creative life, of imagination and radical silliness and staring off into space like when you were a kid? It's going to break your heart. Don't let this happen." –Anne Lamott
"Your self-esteem won't come from body parts. You need to step away from the mirror every once in a while, and look for another reflection, like the one in the eyes of the people who love you and admire you." –Stacy London
"Don't surrender all your joy for an idea you used to have about yourself that isn't true anymore." ―Cheryl Strayed
"You are allowed to be both a masterpiece and a work in progress, simultaneously." –Sophia Bush
"This is it: This body is home. This is where I live and hang my hat. This is where I settle into my hips and sit easy in myself, slung together with strong muscles and bones, made gentle and forging with flesh. This body is durable, has lasted for years, hunkered down through fierce storms and allows for the peaceful erosions of age. It is like a cottage on the shore: weathered and well made, a place where a person could comfortable live. I like it here. It is my own." –Marya Hornbacher
"When the demon starts to slither my way and say bad shit about me I turn around and say, 'Hey. Cool it. Amy is my friend. Don't talk about her like that.' Sticking up for ourselves in the same way we would one of our friends is a hard but satisfying thing to do. Sometimes it works." –Amy Poehler
"Worthiness does not have prerequisites."–Brené Brown
"You can't eat beauty, it doesn't sustain you. What is fundamentally beautiful is compassion, for yourself and those around you. That kind of beauty enflames the heart and enchants the soul." –Lupita Nyong'o
"To be yourself in a world that is constantly trying to make you something else is the greatest accomplishment." –Ralph Waldo Emerson
"We can't hate ourselves into a version of ourselves we can love." –Lori Deschene
"Another person's beauty is not the absence of your own."
"Health is different for every body at a different size." –Crystal Renn
"One day I decided that I was beautiful, and so I carried out my life as if I was a beautiful girl. I wear colors that I really like, I wear makeup that makes me feel pretty, and it really helps. It doesn't have anything to do with how the world perceives you. What matters is what you see."–Gabourey Sidibe
"If you retain nothing else, always remember the most important rule of beauty, which is: who cares?" –Tina Fey
"What about defining yourself by a different kind of measurement? What about your heart, your soul, your compassion, your generosity, your strength, and your power? There are so many other things to focus on besides your waistline." –Mariska Hargitay
"I've learnt to appreciate my body, because it's taken me all the way here and will take me to the end." ―Clémentine Desseaux
"Your body is the piece of the universe you've been given, the place where love and joy and grief happen, where happiness unfolds. Do you really want to keep believing that it's a horrible, ugly, lumpy thing? Do you really want to keep punching yourself like that?" ―Geneen Roth