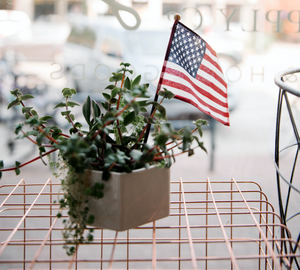 4th of July Recipe Round-Up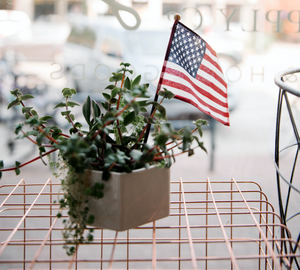 The Fourth of July always brings to mind sweet memories of summer...leisurely time spent in the sun, a refreshingly cold drink in the heat of the day, and watching fireworks light up the sky as we celebrate our country and community. 
Even if this year's celebrations might look a little different than in seasons past, we're looking forward to taking a day to relax outside and enjoy some of our favorite summer meals! 
From appetizers to desserts, we've rounded up our favorite recipes for the perfect Fourth of July feast. 
APPETIZERS + SALAD
Grilled Peach Crostini with Marscapone + Honey                                              (Adapted from Vindulge, recipe by Mary Cressler)
One of the best parts about summer in Colorado is Palisade peach season. This crostini recipe swaps traditional bruschetta ingredients for a sweeter, tangier twist that lets the peaches shine! 
Servings: 24 crostini slices
Time: 16 minutes 
Potato Salad with Old Bay + Potato Chips                                                         (Adapted from Bon Appetit, recipe by Andy Baraghani. Photo: Alex Lau)
No summer BBQ would be complete without a potato salad! Get double the deliciousness in this salad that adds a unique and satisfying crunch: potato chips! Because you can never have too much of a good thing… 
Servings: 6
Summer Berry + Burrata Salad                                                                           (Adapted from The Life Jolie, recipe by Jessie Friemann)
Incorporate a little red white and blue while you get your greens too! This fresh summer salad with seasonal berries and creamy burrata is super simple to assemble and even easier to enjoy. 
Servings: 4
Time: 10 Minutes
__________________________________________________________________________

Flank Steak on Texas Toast with Chimichurri                                                  (Adapted from Food52, recipe by S. Debrango)
Put the traditional burger on the backburner this Fourth of July and indulge in a hearty and delicious steak sandwich! The mouthwatering chimichurri acts as both a marinade for the flank steak and a spread on the sandwich, adding tons of flavor to this tasty entree. 
Serves: 4
__________________________________________________________________________
SWEETS
Blueberry + Raspberry Coconut Greek Yogurt Popsicles                               (Adapted from Foodie in New York, recipe by Vallery Lomas)

Melt the day away with these cool and refreshing Greek yogurt popsicles! Perfect for kids and adults alike, these sweet treats can be made ahead of time and kept in the freezer. Add a dollop of raspberry jam for a patriotic pop of color!

Serves: 10
Stained Glass Jello Stars                                                                                   (Adapted from The Brown Eyed Baker)
Bring back the nostalgia of childhood Fourth of July's with these cute and tasty Jell-O stars! Be sure to make these festive treats at least six hours ahead to allow them to set before enjoying. 
Servings: 24 stars
__________________________________________________________________________
TO SIP
Juneteenth Red Punch                                                                                       (Adapted from New York Times Cooking, by Eduardo Jordan. Photo: Ryan Liebe)
While red punch is often sipped at Fourth of July gatherings, this delicious and refreshing cocktail honors another summer celebration of freedom: Juneteenth. James Beard Award-winning chef Eduardo Jordan explains how red drinks enjoyed at Juneteenth celebrations represent the red kola nuts and hibiscus tea that made their way to the Americas through the trans-Atlantic slave trade, while the Cognac honors its popularity among black soldiers who fought in World War II. This sweet summer punch is a toast to history and hope.
Serves: 6
Time: 45 mins.
 __________________________________________________________________________

IT'S TRADITION!

Flag Cake                                                                                                              (Adapted from Barefoot Contessa Family Style, recipe by Ina Garten)       
Would a Fourth of July celebration be complete without the famous flag cake? This sweet American staple has been gracing picnic tables for generations. We love a classic Barefoot Contessa recipe and this delicious dessert is no exception. 
Serves: 20-24
Time: 1 hour 15 mins.
We hope you enjoy your holiday weekend! 
Sincerely, Sunday!