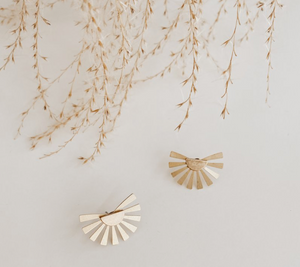 Brand Spotlight: Oceanne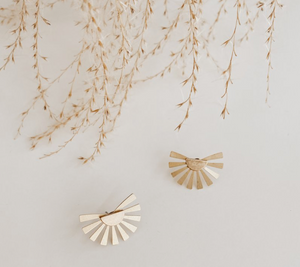 Brand Spotlight: Océanne Jewelry
At Sunday Supply, we are drawn to timeless, well-crafted, and beautiful jewelry that helps us feel most like ourselves. From statement earrings to simple necklaces, we love to complete our look with pieces that matter, show off our personalities, and help us feel confident and inspired. 
With that in mind, we are excited to introduce you to our newest jewelry brand in the shop, Océanne: a women-owned and operated company specializing in minimalist and modern jewelry, dedicated to helping the people who wear their pieces celebrate the meaningful moments in their lives!  
Océanne was founded over ten years ago by owner and head designer Anne Harrill. Inspired by a childhood in France and a move across the ocean, she now finds home in Cleveland, Ohio. Her handmade, vintage-inspired jewelry caught the eyes of customers at flea markets and craft shows, and grew into the chic, creative jewelry and apparel brand it is today. With a storefront and studio located in Cleveland's Gordon Square, Océanne's stunning pieces can also be found in boutiques across the country. (We're happy to be on the list!) 
Each item of Océanne jewelry is handcrafted by a talented team of women-makers and clearly evokes that same sense of strength in femininity in every item they create. With current collections inspired by earthy botanicals, female empowerment, and the always in style city of Paris, Océanne's gold-hued works of art feature simple, organic shapes and bold yet sleek designs. Each item of jewelry is wonderfully wearable, from the simple day to day, to special moments made to remember, and any day in between. 
Océanne has grown tremendously as a brand since its early days. They now offer jewelry making workshops from their Cleveland studio (we wish we didn't live so far away!) and have expanded their online inventory to include apparel, beauty, and home good products which echo the mission of their jewelry line: an appreciation for beauty, sophistication, and joy. 
In the words of founder Anne Harrill on the inspiration behind Océanne's mission, "As more and more people were introduced to my creations, I began to hear stories from customers about the magical ways in which Océanne jewelry helped them celebrate occasions, gave them confidence, and became a constant physical reminder of a joyous memory in their lives. These stories empowered me to keep creating and grow the brand to where it is today."
We can't wait to help you find your perfect Océanne piece in the shop soon!
Sincerely, Sunday
All Photo Sources:
Oceanne