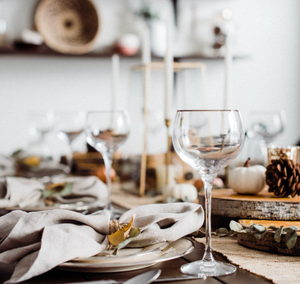 Thanksgiving With Sunday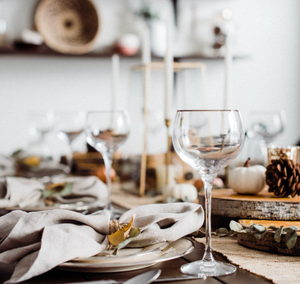 While this year's Thanksgiving might include a few less chairs around the table, our list of things we're grateful for grows longer every day. This week we're giving thanks for beautiful fall days with clear blue skies, technology that allows us to stay connected with people we love, and the chance to pause and prepare a delicious meal, no matter the number of place settings! 
Still in need of some recipe inspiration? Have no fear! Here are some of our favorite dishes to make (and more importantly–eat!) for a Thanksgiving feast that is sure to feed your belly as well as your soul.
APPETIZERS + SALADS:
Spiced Carrot and Pumpkin Soup
Why not start and end your Thanksgiving meal with a little pumpkin? This spiced carrot and pumpkin soup is a tasty way to start your feast off right and puts a spin on traditional Thanksgiving hors d'oeuvres. Warming spices and a swirl of cream add just the right amount of decadence!
Serves: 4
Cooktime: 40 mins. 
Quinoa Salad with Sweet Potatoes and Apples
Jazz up your greens with a helping of nutrient-rich quinoa and harvest inspired ingredients like roasted sweet potatoes and crisp apples. This hearty salad makes an excellent vegetarian addition to the Thanksgiving table! 
Serves: 10-12
Active Cook Time: 1 1/2 hours
TRADITIONAL SIDES
Bourbon Sweet Potato Casserole
A modern spin on a classic, this unique sweet potato casserole is sure to have you coming back for seconds! With the hint of bourbon (for a non-alcoholic version, vanilla works just fine) and subtle savoriness with the addition of rosemary, this isn't your grandma's sweet potato casserole... 
Serves: 10
Cook Time: 30 mins.
Pull-Apart Sour Cream and Onion Chive Rolls
Taking inspiration from perfectly pillowy Japanese milk bread, these simple and savory dinner rolls have a hint of tanginess and are great at getting the last bits of gravy on your plate. Don't forget to leave a few behind for turkey sandwich leftovers the next day!
Servings: 24
TURKEY
Buttermilk Brined Turkey
When it comes to the main event, sometimes it's best to keep things simple. And as fans of Netflix's show (inspired by best-selling cookbook) Salt Fat Acid Heat know, chef Samin Nosrat always delivers with her simple yet absolutely stunning flavors! This year she adapts her beloved (3-ingredient!) buttermilk chicken recipe to work for a Thanksgiving turkey, with equally delicious results. 
Serves: 10-14
Cook Time: 2 hours
Brine Time: 48 hours
DRINKS + DESSERTS
Pumpkin Sugar Pie with Cookie Crust
Melt in your mouth delicious and surprisingly simple, this pumpkin pie is the best way to end an amazing Thanksgiving meal–no matter how small the table! With a no-fuss crust (the cookie-inspired dough is a sneaky way to get two desserts in one) and a rich creamy filling, go ahead and cut yourself a slice! 
Serves: 6-8
Cook Time: 1 hour
Cranberry Bourbon Sour
No matter how things have changed since last Thanksgiving, there is still so much to be thankful for as we toast to another year together. And what better way to toast than with a perfectly festive cocktail? This cranberry bourbon sour looks gorgeous in a glass and is sweet to sip. Add a sprig of candied rosemary for the perfect garnish. 
Serves: 6
Total Time: 15 mins. 
It's no surprise that you, our Sunday family, are at the top of the list of things we're thankful for this year. Your support, kindness, and sweet generosity has left us in awe and we are beyond grateful to be walking through this time with you. From our table to yours, Happy Thanksgiving!
Sincerely, Sunday
Sources:
Recipe photos sourced via the original recipes, linked directly to photos.
Featured Image: Sourced via joyfullygrowingblog.com