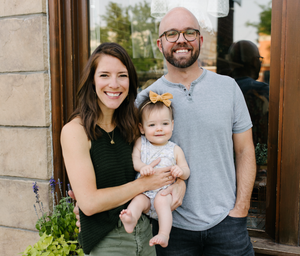 Six Years With Sunday: Q + A with Amanda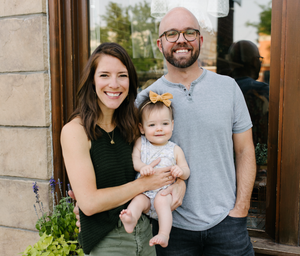 In October 2014, the doors of Sunday Supply officially opened on Linden Street for the first time. Since then, some things have changed–such as our address and our ever growing Sunday family! But over the past six years, there are many things that have remained at the heart of Sunday Supply: the love we have for this community, the honor of hand-picking beautiful pieces that bring joy, and the privilege it is to serve you every day. As we near our sixth birthday, the Sunday team has put together six questions to ask Amanda Longacre, the true heart behind Sunday Supply. Here's what Sunday's visionary had to say about her journey owning and operating a brick and mortar shop in downtown Fort Collins!
Why did you start Sunday Supply? 
In 2014, I found myself in a position where I was transitioning out of a full-time job and figuring out what was next. Part of my process included a long list of practical options, so I asked myself what I would do if there were no limits or risks or fear involved. What did I really want to do? "Open a shop" was the answer that was quickly added to the list. It's been something I've thought about as long as I can remember, but I had never said it out loud. I think it was actually a long time coming. When I was younger, I hated shopping and remember wishing there was a store I could go to find everything that I liked in one place. When I was in college, I would spend my time between classes wandering in and out of boutiques in downtown Athens, Georgia, feeling genuinely inspired each time I walked into someone's small shop, thinking how amazing it was that they created their own spaces. As a creative person that doesn't necessarily identify as an artist, I have always been drawn to design and fashion and the inspiration created within environments. Suddenly, the idea of opening a store genuinely started to feel right and also kept me up at night with excitement. Once I said yes to the dream, I started taking steps to create a retail experience that was unique, intentional, and set apart here in Old Town.
 What's been the most rewarding + challenging thing about owning a small business?
I think the most beautiful thing about Sunday Supply has been to see what it has become over the past six years. It's not perfect and I have so much growth ahead of me as a business owner, but I've built a business that I feel truly proud of.  To me, Sunday Supply is a place where people can build community, feel inspired, and find clothing that makes them feel beautiful, comfortable, and seen. To work so hard towards something for so long and feel like I can start to step back and see it standing confidently on it's own is such a beautiful gift. I feel like I've brought what I've been able to the table, and Sunday Supply--the team, the customers, the community--has truly come into itself in a way that I couldn't have dreamed or imagined. 
As for challenges, it's been a wild journey, that's for sure. We've run the gamut of obstacles from construction, to unexpectedly losing a lease and waiting for months for a new location...but I'd say the actual challenge that has presented itself over and over is knowing what "enough" looks like. As a small business owner, I'm always the "last to lock up" so to speak and there's always more that I could be doing. As Sunday Supply has taken on different shapes and forms over the past 6 years, I've had to regularly evaluate what it looks like for my work to be done for the day. I'm happy to say that this is getting easier and easier for me.  
I met my husband, Wesley, in our shop on Linden, so that day will always hold the spot for favorite shop memory, but a close second was bringing our little girl into the shop for the first time after she was born. There was very little that I wanted to do postpartum that didn't involve being tucked in safely at home, but I remember having so much pride when I walked back through the shop doors as a mom and introduce Davy to Sunday Supply 
What do you attribute Sunday Supply's success to? 
Hands down, the people in and around this business. I had the huge privilege of launching Sunday Supply alongside some of the most talented, wonderful, business-minded friends, and it is continually carried and sustained by the community around it. From its loyal customers and hardworking staff, to my supportive family and friends, this place has grown to be what it is today because of the people that have stepped into the vision and said "yes" to it. 
M

ost valuable lesson you've learned as a small biz owner?
I feel thankful to have learned to hold this business loosely. As dear and important as Sunday Supply is to me (and always will be), it will never have my heart in a way that dominates my emotions or keeps me from investing in the people I love. As 2020 has taught us, the world truly is a wild and unpredictable place, but if I were to lose the business tomorrow it would be okay. Would I be sad? Absolutely...lots of tears. Would I be broken? Absolutely not. I feel insanely thankful to have learned how to rest confidently in a place of appreciating the precious gift that I hold while still being able to hold it loosely. 
Hopes and dreams for Sunday Supply for the next 6 years?
We all love a good surprise so I won't dive into the specifics of what we're dreaming of for Sunday Supply, but my greatest hope is that we're still firmly rooted and thriving here in Fort Collins. I hope that our customers are still finding beautiful pieces that they love and that my staff still love their jobs as much as I do. I hope Davy is learning how to wash the shop windows and carefully fold the clothes. I hope that we're surrounded by an even stronger community that the beautiful one I've found myself surrounded by today. 
Whether you've been a part of our Sunday family since our first days on Linden Street or recently walked through our door for the first time, we're happy to have you along for the ride. Thank you for an amazing six years together!
Sincerely, Sunday
Photography:
Jackie Nunnally (featured image + image 4)
Kelli Kroneberger: Images 1,2,3,5)