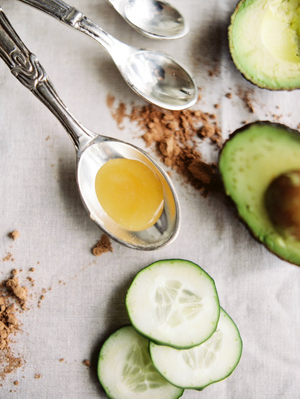 DIY Avocado + Honey + Cacao Face Mask Recipe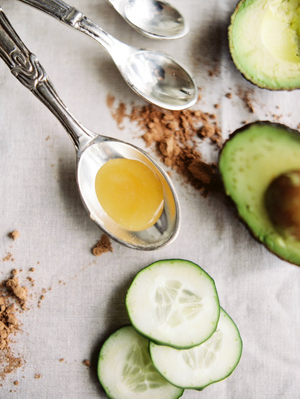 We talk a lot about what to put inside our bodies, but we often neglect our skin, leaving us exposed to toxins from the air, our environment, and even the products we find at the store. Not only is it important to nourish our internal body, it is equally important we take care of our most tender and largest organ, the skin. Most favorably there are a few impressive non-toxic skin care lines; one of which I use often is Tata Harper. Do something good for yourself and try the sample kit. I'm certain you'll begin using Tata Harper regularly.
Nonetheless, we wanted to create a mask that you can make at home once a week and see results. The best part... it's affordable and easily accessible. Below you'll see the incredibly nourishing and healing benefits of avocado, raw honey, raw cacao, and cucumber to create soft and glowing skin. 
Ingredients:
1 organic avocado
1 TBSP organic raw honey
1 TBSP cacao powder (I use Navitas Natural Organic Cacao Powder)
3-4 cucumber slices
Instructions:
In a medium bowl, de-skin avocado and mash with a fork until consistency is smooth. In the same bowl, stir in honey and cacao powder. Squeeze the juice of the cucumbers, making sure not to get the seeds into the mixture. Stir everything until smooth. 
Spread a thick layer all over face. Leave on for 20-30 minutes. Rinse off with warm water. 
Benefits:
Avocado: Rich in omega-3 fatty acids, avocados are anti-inflammatory and increase the elasticity of the skin.  
Raw Honey: A great anti-bacterial agent and healer, raw honey will open up the pores, and cleanse and detoxify the skin leaving the skin with a soft and smooth glow.  
Cacao Powder: Raw cacao in its purest form has a high amount of cancer fighting, disease busting, premature age destroying antioxidants.
Cucumber: Helps in cleansing and softening the skin and reduces swelling.