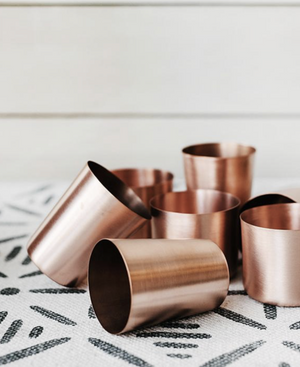 Drinking Water from Copper | The Benefits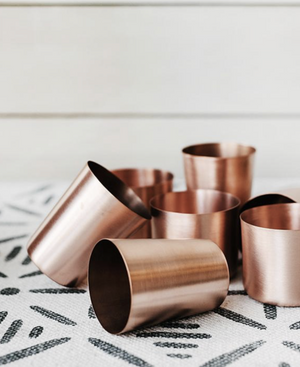 Think primitive times; when every piece of nature taken from its place was utilized, when fresh air breezed through the earth on eagle's wings, when feet were dirty and hearts wild at the end of the day. This is the beauty of multi-purposed materials in our homes. When the things we use promote more than just taking up space, but also benefit our well-being, the makings of a home become a lifestyle. A lifestyle commonly spoken within homesteads is health. In the gatherings of a family, with each individual specifically known and loved, health is always a concern. An essential piece of nourishing the family is using products that not only look great, but are authentically beneficial for well-being. The efficiency of copper, a household item, is doubled when put into our bodies through water! 
How does this work? Filling the tumbler with water for 8 hours allows the water to carry the properties of copper required in almost all processes taking place in our bodies. Drinking water twice or thrice a day from a copper vessel will bring your body more than enough of its benefits. This brief list will walk you through how essential this mineral is to the functioning of the body.
Kills bacteria
Known to help prevent common water-borne diseases like diarrhea, dysentery and  jaundice, copper has been touted as the cheapest solution to cleaning water in countries without good sanitation systems.
Stimulates brain
Helps in the synthesis of essential formations in cerebral structure, making the brain faster and more efficient. Copper is also known to prevent seizures because of its anticonvulsive properties.
Regulates thyroid gland
One of the most important trace minerals the thyroid gland needs to function optimally, a lack of copper puts the thyroid out of sync. Water from a copper vessel makes up for this deficiency and regulates the functioning of the thyroid gland.
Relieves inflammation
Copper has very potent anti-inflammatory properties, and is especially great for relieving aches and pains caused due to inflamed joints – like arthritis and rheumatoid arthritis.
Improves skin complexion
Copper is the main component in the production of both melanin (a pigment that mitigates the color of your eyes, hair and skin) and of new cells that help replenish the top layers of skin. Melanin protects from sun damage and heals wounds speedily. Steady skin cell production creates smooth, blemish-free skin. Packed with very strong antioxidant forming properties, copper fights off free radicals – one of the main reasons of fine lines on the face – slowing the aging of skin.
Helps aid digestion
Kills harmful bacteria and reduces inflammation within the stomach– making it a great remedy for ulcers, indigestion, and infections. Copper also helps cleanse and detox your stomach, regulates the working of your liver and kidneys, aids in the proper elimination of waste, and ensures the absorption of nutrients from food.
Keeps body in shape
Helps your body break down fat and eliminate it more efficiently.
Effective healing agent
Known for its immense anti-bacterial, anti-viral and anti-inflammatory properties, it's no wonder copper is a great way to heal wounds quickly.
Heart health booster
Heart disease one of the most common ailments that people suffer from, and copper helps minimize the risk of developing the disease. According to the American Cancer Society, copper helps regulate blood pressure, heart rate and lowers cholesterol and triglyceride levels.
Fights cancer
Has very strong antioxidant properties that helps fight off free radicals and negate their ill effects – one of the main reasons for the development of cancer.
Shop our copper tumblers online or in store. 
Source